Young Adult Etiquette & Protocol Seminars
University Etiquette, College Etiquette, Leadership, Protocol, and Soft Skills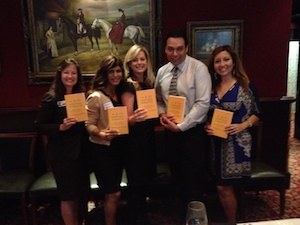 Equip your students to confidently represent themselves and your university with successful social and business decorum.
Patricia Rossi presents workshops on campus, community rooms and centers, boardrooms or in restaurants. Click here for a free consultation to create your customized course.
Dine Like A Diplomat Course
Navigating the Place Setting
Napkin and Seating Etiquette
Continental Style of Dining
Silent Service Code
Bread and Butter Protocol
Soup Course, Entree, Dessert
Silverware, Crystal, China Savvy
Table Talk/ Small Talk
Do's And Don'ts of Dining
Toasting the Two Types When And How
Successful Business Entertaining
Host and Guest Duties
How to Pay Gracefully
Thank You Notes
Business Etiquette Tutorial
Winning solutions for effective personal branding
Introduction of self and others
How to respond to introductions
Eye Contact confident and respectful
Basic Body Language
6 types of handshakes and their meaning
Business card protocol
Techno Savvy e-mail, cell phone, Blackberry texting, Social Media Training
Conversation skills Basics
Tips for remembering names
Protocol of engaging in and ending conversations
The 5 taboo topic's to avoid
The 5 most tasteful topics of discussion
Soft skills needed to put others and yourself at ease
Networking Our Way To Success Tutorial
The three keys to putting others at ease; combining personal conduct, soft skills, and social confidence.
First Impressions making them last
Making a memorable and confident entrance
Introductions personal and public
Handshaking what it says about you
Small talk/ table talk/ party talk
Personal and confident body stance, how to be approachable
Types of foods to enjoy and also avoid & why
5 success tips for working a room
5 places to avoid when working a room
Respectfully disengaging the conversational rambler/clutch on
When and how to gracefully exit the party/event