From College to Career
Now That You Are Ready To Enter The Workforce: The Steps to Take So You Both Fit In AND Stand Out after College
---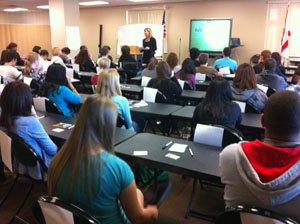 By the time you enter college and choose a major, you probably stop hearing the question, "What do you want to be when you grow up?" Now that you are in college, you want to be sure you're managing your identity in a way that will help you in your professional career. During this fun, engaging and interactive presentation, you'll discover how to begin managing your identity in college and continue for a lifetime for success and happiness. We'll cover topics like:
1. During College: What you can do during your college years to help advance your professional career even before it begins. Topics include: the best ways to use social media sites like Facebook and LinkedIn and managing your virtual identity; beginning to build your professional network now; how to give stellar first impressions; how to create your "relationship resume," and more.
2. During the Job Hunt: When you're looking for your first professional job, you'll be up against some tough competition. Organizations will only hire the best of the best. Yet in order to stand out from the others up for the same job, you must also know how to fit in with that organization. Topics include: how to do your homework before an interview so you'll look like a seasoned pro; what to say to ace the interview; the exact words you should say as you enter and exit every interview situation; what to wear to present your best image so you look both professional and fashionable; how to navigate a mealtime interview with grace and style; and more.
3. On the Job: Once you are hired, you might think you've got it made. But In your first days, weeks, and months you are continually being closely evaluated and this will continue throughout your career. You'll need know how to successfully navigate relationships within your organization and manage your identity as someone to watch instead of being someone to watch out for. Topics include: finding a mentor; what to wear day-to-day and the true definition of business casual; maintaining your virtual reputation; how to virtually guarantee you'll get raises over and over again; and more.
Additional Business Etiquette Topics:
Go Back