Everday Etiquette Book
How to Navigate 101 Common and Uncommon Social Situations

Do You Want To Be More Comfortable and Confident In Social Settings? A Master Networker? And a Conversationalist?
Does it seem like you've tried everything in your power to control your social anxiety, and yet, despite your best intentions, you're still plagued by:
Dreading the next business social event?
Wasting valuable "networking" opportunities?
Making poor first impressions?
Struggling to "make small talk"?
Don't Continue to Let Social Anxiety Sabotage Your Success
Make no mistake: Your social anxiety may not be your fault, but that doesn't mean that you shouldn't — or can't — do anything to STOP it!
The costs of continuing to repeat this pattern are just too steep…
We are all walking biographies — what story are you communicating to others through your unspoken soft social skills?
From the boardroom, to the business lunch to the backyard barbeque—your business is always open.
Think about all of the relationships that you haven't made because you're afraid to network with someone that you know would be a good customer, business associate, mentor, or even a potential friend.
Think about how much harder you have to work because your first impression is often a weak one and you struggle with "small talk".
… and that's not to mention the toll it's taking on your personal life.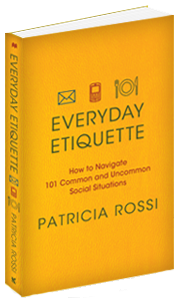 For more than twenty years, I have helped people feel more confident and at ease in their everyday lives by teaching them about etiquette, protocol, and soft social skills. Whether I'm doing one-on-one coaching or group classes, writing blogs, visiting the White House, or appearing in my nationally syndicated "Manners Minute" television segments, I always focus on the same core principles: kindness as opposed to formality, and relationships as opposed to rules.
I've worked with thousands of people with suffering needlessly with exact same problem, and been able to help most of them put an end to their social anxiety for good! Now they are living fuller, richer, more successful lives.

The Secret to Social Self-Confidence
You see, the secret to social self-confidence is to know and understand the rules of social engagement before you're in the middle of an uncomfortable situation. In a simple sense, when you know which fork use — you are liberated. It works the same way with small talk, introductions, eye contact, and "The Perfect Hand Shake".
What Will You Learn?
Here are just a few ways we interact over and over again in our professional and personal lives. In Everyday Etiquette Patricia gives us the tips and treasures to shine and honor others in each situation…
Perfect Introductions: How to make a memorable impact
5 Easy Ways to Remember Names
The Perfect Handshake
Eye Contact
Body Language: We are walking autobiographies
How to Start and End a Conversation and Make Small Talk
Business Card Protocol
E-mail Etiquette
How to use Social Media with Clarity
Cell Phone & Text Etiquette
Networking without Nervousness
How to Make a First and lasting Connection
Mingle-Ability: How to Meet, Greet, Eat, and Tweet
Tips Tools and Rules to Master your Mingle-Abilty
Shine In and Out of your Element
How to Fit in so You Don't Get left Out
Business Dining Etiquette & Protocol