NBC Daytime
Patricia Rossi is America's Etiquette "Go to Expert"!
Patricia Rossi is the "go to person" for etiquette knowledge and experience in television, radio and print media.

With up to date, expert knowledge of knowing what to in any situation, Patricia Rossi has an uncanny knack that will put everyone at ease. Whether it is as simple as dining etiquette like knowing which fork to use at a formal dinner, to which direction your bottom faces when shuffling down a theater aisle, Ms. Rossi's delightful comedic delivery brings enlightenment and levity to everyday ordinary.
She provides a wealth of information with a hint of humor uniquely in a way that only she can. Click the button below to view Patricia's video segments.
Patricia Rossi recording segments for One Minute Manners on NBC Daytime.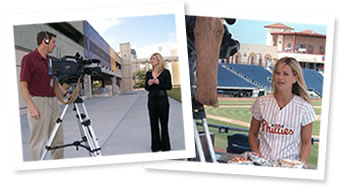 Daytime is geared towards daily lifestyles and entertainment content. Right now, there is no other show like this in any market. Patricia Rossi says, "The excitement of a LIVE to tape show makes for spontaneous fun!"
You'll learn cooking secrets from top chefs, fix-it tips you can do yourself, all while Daytime takes you on the road to some of the hottest travel spots.
Patricia Rossi will teach you many things about etiquette, manners, and protocol. See some of her One Minute Manners segments here.

To book Patricia for a TV, radio, personal appearance, or speaking engagement contact us.
About NBC Daytime
Daytime is a daily program that airs on the following stations across the southeast:
WFLA/ Tampa, FL
WRBL/Columbus, GA
WNCN/Raleigh, NC
WCWJ/ Jacksonville, FL
WSAV/Savannah, GA
WCBD/Charleston, SC
KGPT/Wichita, KS
KPVM/Pahrump, NV
WJAL/Washington, DC